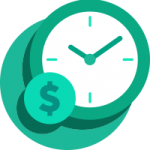 Spring is here (or so the calendar says) and despite the still-chilly weather we're happy to announce that version 3.09 of TurboLaw Time and Billing has just been released! This new version brings a whole bunch of improvements, new features, and changes based on feedback we've received from our users.
Here's some of the biggest changes we've made:
Added a bunch of new filtering options to reports which allow you to filter your report by:

Clients with or without balances
Clients with unbilled items
Clients with retainers
Active or inactive clients
Active or inactive staff

Added additional UTBMS billing codes for e-Discovery, Patent, Trademark, and Workers' Compensation
Made the "Add Default Categories" button available even if you already have some categories entered (so you can add these new or any other billing categories to your existing category list)
Made it so that when creating new bills, if you only have items entered in a single matter, the bill will automatically be selected for that same matter
Added an option to change the billing rate for multiple time entries at once
These are just some of the biggest and most noticeable changes in this version – we've also made the following minor changes:
Changed report layouts so that column headings appear on every page (instead of just the first page)
Improved the display of reports that are grouped by client status (active/inactive)
Improved some of the built-in bill templates to be better examples of frequently requested designs
Minor improvements to the formatting of the "Retainer Activity" report to hide the zero (0) that appears in the "Bill #" column (since this does not apply)
Refunds can now be edited (instead of having to delete and re-enter them)
Added a new bill merge field to show the client (or matter) retainer balance as of the date of the bill (as opposed to showing the current balance as of the date the bill was printed or viewed)
When bills are automatically paid, the "paid on" date will now be set to either the bill date or the payment date (whichever is newer) instead of defaulting to the current date
You can see the full list of every change in this version by clicking the Help menu in TurboLaw Time and Billing and choosing What's New.
As always, we hope you enjoy this new version of TurboLaw Time and Billing – if you have any comments or feedback you'd like to share, we'd love to hear from you!