Document automation packed with helpful features
Fully editable forms
Edit any portion of your TurboLaw forms – including court forms!
Personalized Letterhead
Create your own letterhead in TurboLaw or copy/paste your own.
Make-Your-Own Templates
Use our templates or create and manage your own to save time.
Auto-calculating
Never fully recalculate a financial statement again.
In-Document Instructions
Get document instructions (paper color, size) while you work.
Contact Management
Store contact information, auto-fill forms, and notate cases.
Instant Access
Get the documents you need right at your fingertips, 24/7.
Conflict of Interest Check
Automatically check for interest based on Social Security numbers.
One-click Backup
Ensure your information is safe with one-click backup.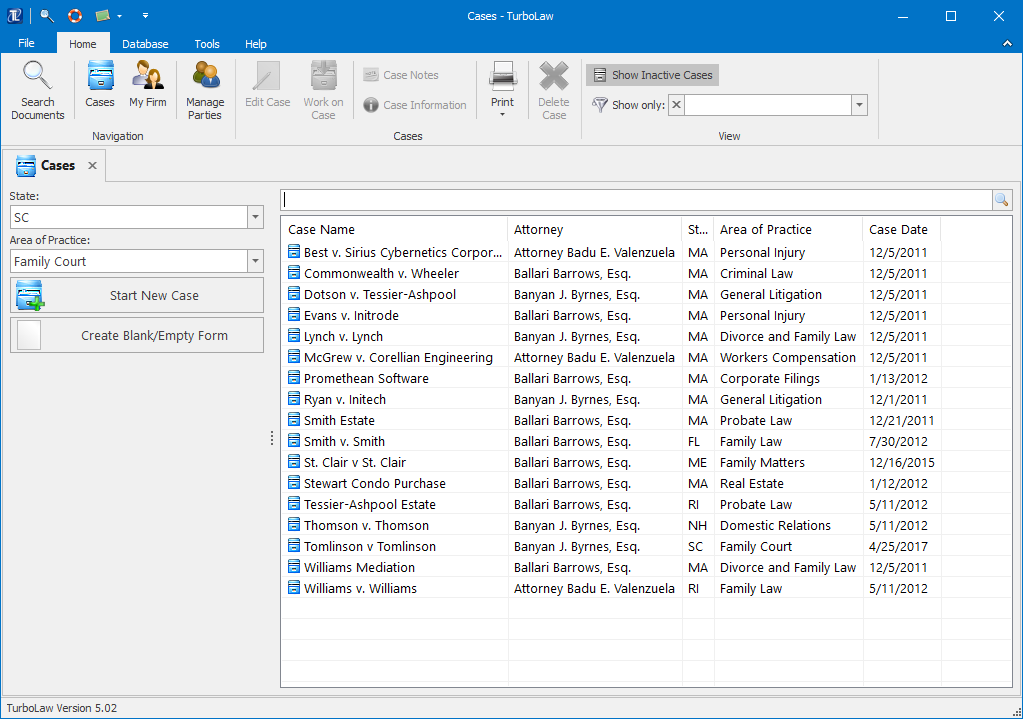 What does TurboLaw do?
TurboLaw Document Software saves you time with automated forms and documents.
TurboLaw is a unique document automation solution because it includes the fully editable documents you need in your daily practice – unlike other document software products which require you to build (and even "code") your own.
TurboLaw's intuitive design makes it easy to get going – no huge learning curve or extensive training needed.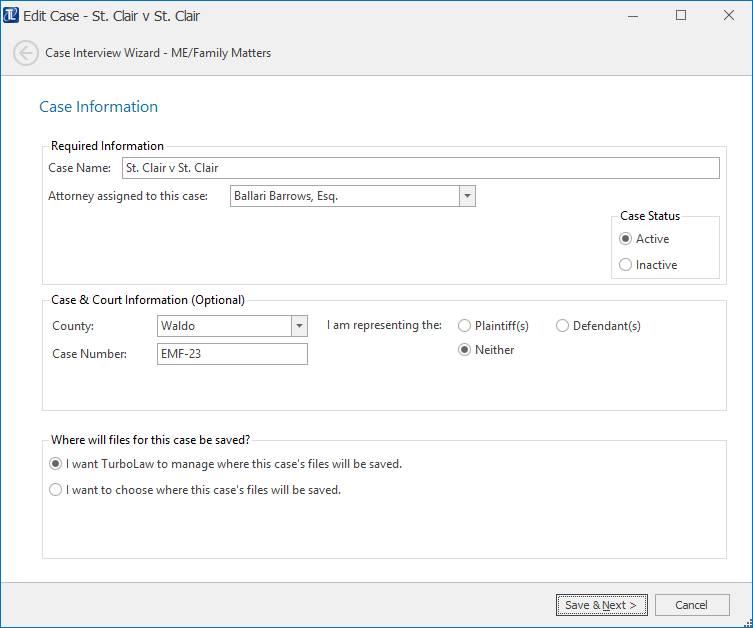 Don't reinvent the wheel
Step-by-step wizards save all your client and case info saving you valuable time. Don't "re-invent the wheel" every time you create a form!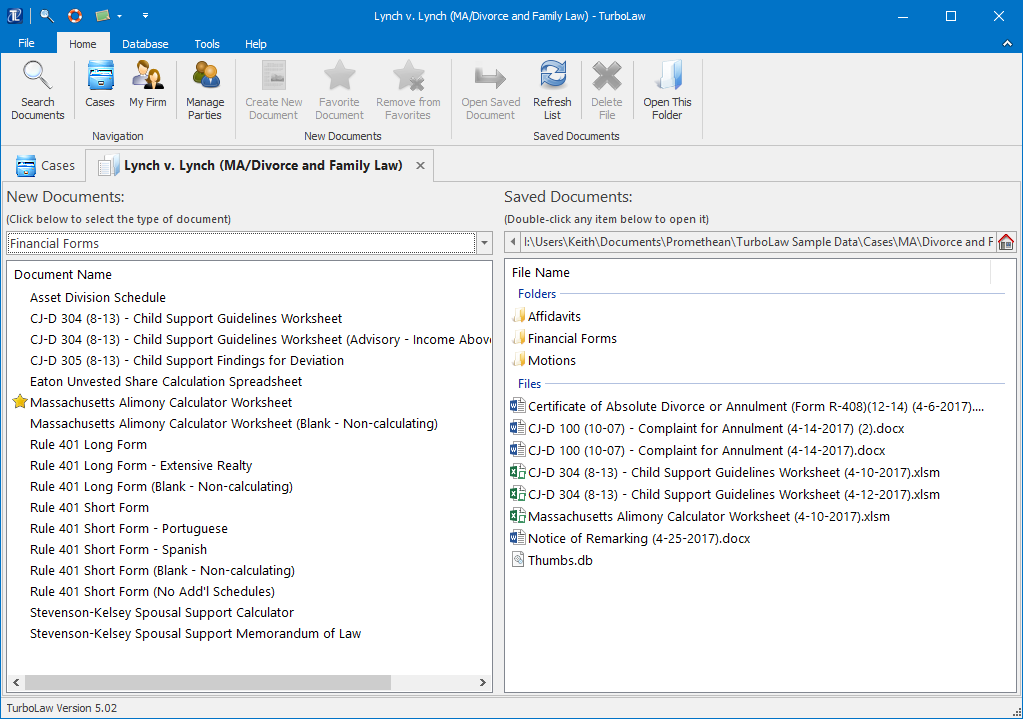 Forms at your fingertips
With TurboLaw, hundreds of state-specific forms and motions are at your fingertips – so you don't have to bother your friends or waste time hunting for forms online or at the courthouse.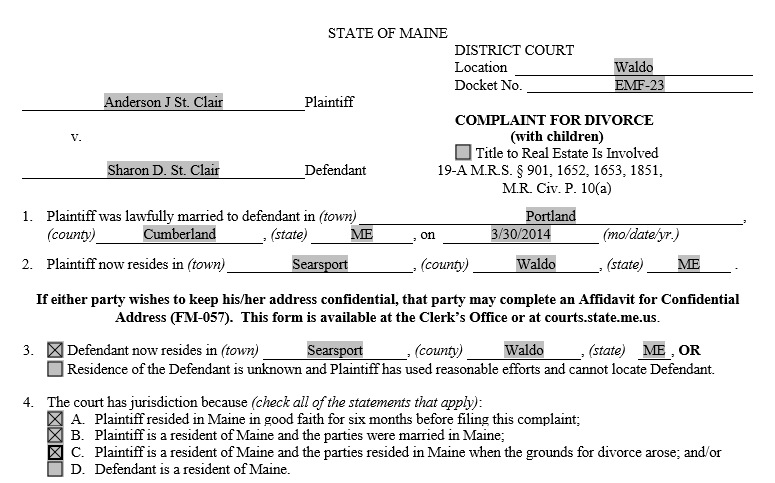 You have better things to do
Stop typing the same thing over and over again – you have better things to do! Let TurboLaw take care of the drudgery of filling out repetitive case and client information in the documents and forms you use every day.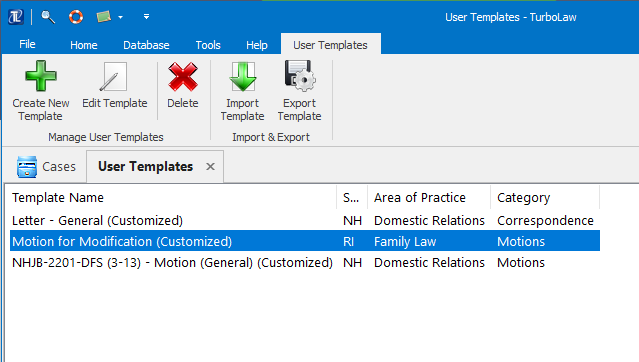 With TurboLaw, you can make tweaks to forms as you wish and change the wording in any of our documents to create your own custom auto-filling library (without the hassle and annoyance of starting from scratch)!
The next step is our 30 day free trial.
Start your 30 day trial now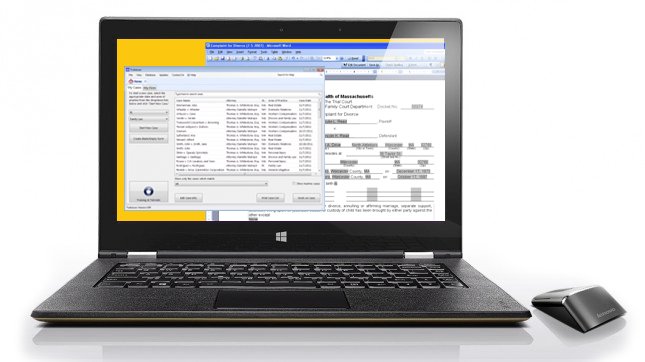 See it for yourself
Click the button below to get access to a short video demo where you can see for yourself how TurboLaw Document Software helps you get more clients, have happier clients, and get home on time.
Family Matters Edition
If you practice family law in Maine, you'll love our ME Family Matters program! We stay on top of all of the form changes and automatically update forms in your software.
Forms Included in the Family Matters Edition
Adoption
AD-001 (7-16) - Petition for Adoption and Name Change
AD-003 (7-16) - Consent of Other Than Parent
AD-004 (7-16) - Consent by Person to be Adopted
AD-005 (7-16) - Child Custody Affidavit
AD-006 (7-16) - Confidential Statement to Accompany Petition for Adoption
AD-007 (7-16) - Report of Disbursements
AD-010 (10-16) - Adoption Registry Acknowledgment
AD-011 (10-16) - Secondary Placement Affidavit
AD-012 (10-16) - Certificate of Counseling
AD-013 (10-16) - Consent of Parent to Adoption
AD-014 (10-16) - Consent of Parent to Adoption (Outside the State of Maine)
Correspondence - General
Letter - General
Letter to Clerk re Enclosure(s) - General
Letter to Client re Enclosure - Action
Letter to Client re Enclosure - No Action
Letter to Opposing Counsel
Financial Forms
FM-040-S (8-16) - Child Support Worksheet
FM-040-SA (8-16) - Supplemental Worksheet
FM-042 (4-14) - Certificate In Lieu of Financial Statement
FM-043 (10-10) - Financial Statement
Income Withholding Order
Guardianship
GS-001 (7-16) - Petition for Appointment of Temporary Guardian of Minor
GS-003 (7-16) - Petition for Appointment of Permanent Guardian of Minor
GS-006 (7-16) - Acceptance of Appointment by Guardian of Minor
GS-007 (7-16) - Petition for Termination-Removal-Resignation of Guardianship
GS-010 (10-16) - Child Custody Affidavit in Support of Appointment of Guardian of Minor
GS-011 (10-16) - Letters of Guardianship
Motions
FM-062 (6-14) - Motion to Modify
FM-068 (4-14) - Motion for Contempt Rule 66
FM-070 (4-14) - Motion to Enforce
FM-214 (10-15) - Motion to Enforce Visitation for Military Members
Official Forms
CV-036 (7-16) - Acknowledgment Receipt of Summons & Complaint, Post-Judgment Motion
CV-CR-FM-PC-200 (7-15) - SSN Confidential Disclosure Form
CV-FM-103 (10-15) - Notice of Hearing
CV-FM-202 (4-13) - Affidavit Service Completed by Alternate Means
FM-002 (6-16) - Family Matters Summary Sheet
FM-004 (6-16) - Complaint for Divorce (with children)
FM-005 (4-14) - Complaint for Divorce (no children)
FM-006 (6-16) - Paternity, Parental Rights
FM-008 (4-14) - Petition For Expedited Enforcement Of Child Custody Determination
FM-050 (4-14) - Child Support Affidavit
FM-052 (4-14) - Federal Affidavit
FM-054 (4-14) - Certifcate in Lieu of Case Management Conference
FM-055 (4-14) - Verification of Diligent Job Search
FM-056 (4-14) - Certificate Regarding Real Estate
FM-057 (4-14) - Affidavit for Confidential Address
FM-058 (4-14) - Affidavit-Request for Registration of a Foreign Order
FM-064 (4-14) - Petition for Emancipation
FM-071 (4-14) - Objection to Final Order of Magistrate
FM-087 (7-16) - Info Regarding Case Management
FM-125 (9-15) - Order Appointing Guardian Ad Litem
FM-132S (8-16) - Child Support Order
FM-137 (2-09) - Contempt Scheduling Order
FM-160 (4-14), Waiver of Right to Object and Waiver of Appeal
FM-171 (3-13), Abstract of Divorce Decree
FM-181 (4-14) - Verified Application for Issuance of Warrant
FM-186 (6-16) - Answer and Counterclaim for Divorce
FM-187 (6-16) - Answer and Counterclaim Parental Rights-Responsibilities
FM-188 (4-13) - Order for Service by Alternate Means
FM-216 (8-16) - Uncontested Joint Petition for Pre-Birth Determination of Parentage
PB-003 (10-16) - Jurisdictional Affidavit
PB-005 (10-16) - Additional Party Summary Sheet
I wanted to write to thank you and your firm for the substantial support which you provided to me in connection with the installation of my TurboLaw upgrade. I have dealt with other vendors of legal software, and TurboLaw is by far the best, both with respect to the product itself and also with respect to the technical support assistance which you provide. Your services and product have promoted the efficient running of my office.
Joyce G. Perocchi
Thank you for being so responsive. It is good to have responsive 'partners' like you to help me with my practice. Thanks again.
Michael P. Friedman, Esq
I appreciate your customer service. TurboLaw rocks!
Attorney Alison Zollo Lebleu
Stress-free support when you need a hand
a responsive partner when you need help

Online
We have an extensive online help center available 24/7 where you can find help articles or start a ticket on any issue you're having.
Email
We offer email support for those times when you can't find what you need in the Help Center or just want to get in touch with a human!
Phone
Prefer to talk to a human? Give us a call Monday through Friday from 9am to 5pm ET, and we'll help you out!
TOLL FREE: (800) 518-8726
INT'L: +1 (508) 283-1389
Try TurboLaw Document Software for free!
Get started with a free 30-day trial today
A credit card is required to sign up, but you can cancel at any time.

Start my 30 day trial now