Trusted by thousands of attorneys for over 20 years
Thousands of legal documents and court forms at your fingertips. Let us help you earn more money, get more clients, and get home on time. Available for Massachusetts, Rhode Island, New Hampshire, Vermont, Maine, Connecticut, Florida, and South Carolina!
Document automation packed with helpful features
Fully editable forms
Edit any portion of your TurboLaw forms – including court forms!
Personalized Letterhead
Create your own letterhead in TurboLaw or copy/paste your own.
Make-Your-Own Templates
Use our templates or create and manage your own to save time.
Auto-calculating
Never fully recalculate a financial statement again.
In-Document Instructions
Get document instructions (paper color, size) while you work.
Contact Management
Store contact information, auto-fill forms, and notate cases.
Instant Access
Get the documents you need right at your fingertips, 24/7.
Conflict of Interest Check
Automatically check for interest based on Social Security numbers.
One-click Backup
Ensure your information is safe with one-click backup.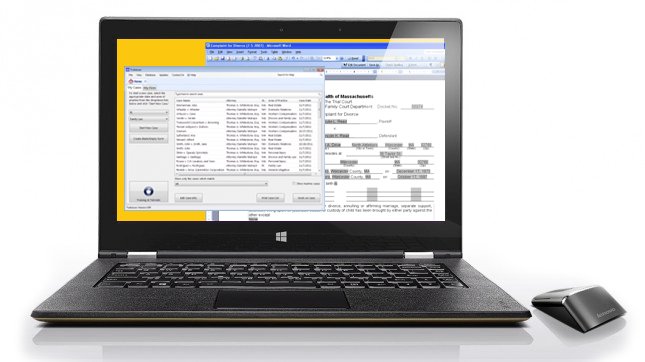 See it for yourself
Click the button below to get access to a short video demo where you can see for yourself how TurboLaw Document Software helps you get more clients, have happier clients, and get home on time.
I wanted to write to thank you and your firm for the substantial support which you provided to me in connection with the installation of my TurboLaw upgrade. I have dealt with other vendors of legal software, and TurboLaw is by far the best, both with respect to the product itself and also with respect to the technical support assistance which you provide. Your services and product have promoted the efficient running of my office.
Joyce G. Perocchi
Thank you for being so responsive. It is good to have responsive 'partners' like you to help me with my practice. Thanks again.
Michael P. Friedman, Esq
I appreciate your customer service. TurboLaw rocks!
Attorney Alison Zollo Lebleu
Stress-free support when you need a hand
a responsive partner when you need help

Online
We have an extensive online help center available 24/7 where you can find help articles or start a ticket on any issue you're having.
Email
We offer email support for those times when you can't find what you need in the Help Center or just want to get in touch with a human!
Phone
Prefer to talk to a human? Give us a call Monday through Friday from 9am to 5pm ET, and we'll help you out!
TOLL FREE: (800) 518-8726
INT'L: +1 (508) 283-1389
Windows System Requirements
TurboLaw Document Software requires the following minimum system configuration:
Microsoft Windows 7, Windows 8, Windows 8.1, or Windows 10
Microsoft .NET Framework 4.0 or higher (TurboLaw Document Software setup downloads and installs this automatically)
Microsoft Word 2007 or later and Microsoft Excel 2007 or later
Each TurboLaw Document Software edition has its own minimum hard disk space requirements which can be viewed on its product page.
Cloud for Mac and mobile devices
You don't need a PC to use TurboLaw Document Software. Use the Cloud version and access TurboLaw Document Software from anywhere on almost any device - all you need is an internet connection! Cloud editions are available for all TurboLaw editions.
Try TurboLaw Document Software for free!
Get started with a free 14 day trial today
A credit card is required to sign up, but you can cancel at any time.
Start my free 14 day trial now